Do You Have A Design Project We Can Help With?
Over the past 15 years as one of San Diego's premier, interior plantscape companies, we have seen the industry
evolve. We take pride in bringing the most contemporary design trends to our clients. It makes perfect sense that
we would be one of the first local plant companies to carry a wide range of plant wall systems, including the
newest trend, preserved moss walls. This type of art integrates preserved moss to create a vibrant and texturally
interesting twist on live walls. It is a conversation piece that allows architects, designers, property managers, and
residential clients to bring the beauty of nature indoors in a clean and cultured manner. Next time you are looking
for a cutting edge and nearly maintenance free way to "green" up your lobby or building space, think about
adding a stunning piece of preserved moss artwork.
What is Preserved Moss?
Preserved moss is 100% natural moss that is no longer alive, but has been carefully preserved for decorative purposes through an eco-friendly process. The process is completely non-toxic and preserves its appearance, freshness and scent for many years, with no need of soil, water or sunlight. No ecological damage occurs during chemical preservation and the moss is heat-treated for safe decorative purposes.
Advantages of Moss Walls
Preserved moss provides the beauty of natural plants and the convenience of artificial
plants. You can have quality-looking greenery the whole year in a closed setting.
Resistant to Climatic Attacks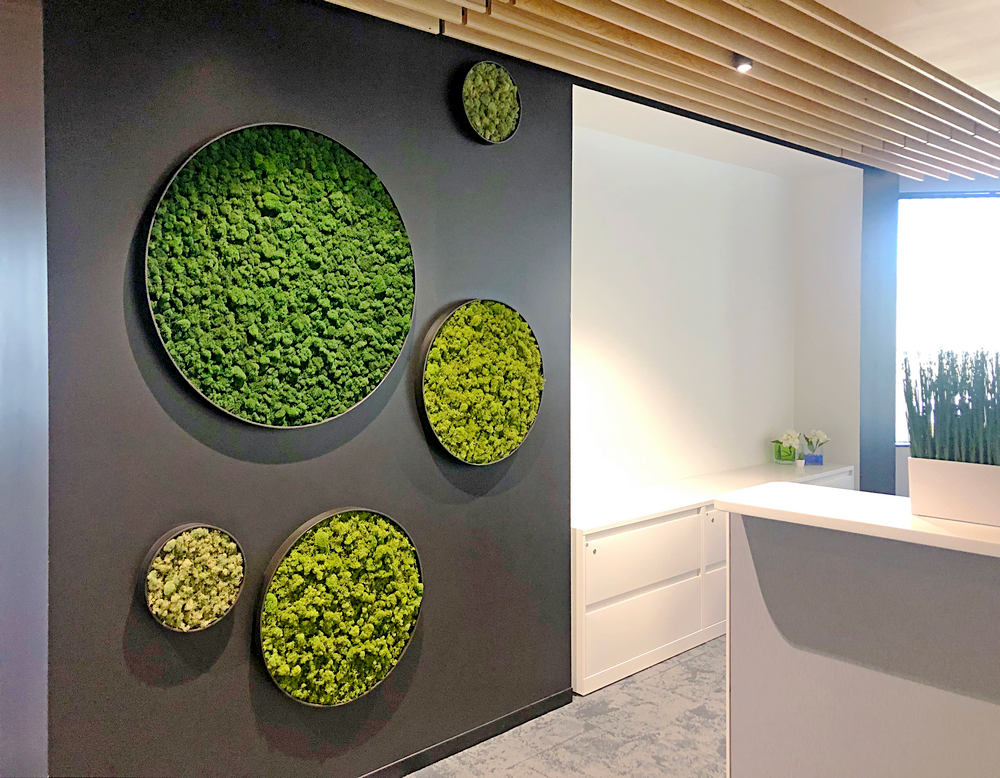 Limitless Design Possibilities
One of the greatest advantages to preserved moss is its design versatility. It is available in almost any color and can be manipulated to fit custom shapes. This provides businesses a unique branding opportunity to enhance their identities. Our team at Greenleaf IPS is prepared to help your San Diego business stand out from the crowd. We have expertise in metal fabrication and millwork. Design materials can include, but is not limited to 3-Dimensional Moss, Metal, Wood, and LED backlighting. The only limit is your imagination!
Our Process
The process for our Moss Walls is simple. After an evaluation of your space, our designers develop a cutting edge proposal that satisfies your budget and aesthetics. From a simple framed piece to a custom integrated wall design, we do it all. Depending on the final design, the installation time can be done in as little as one day! We perform regular inspections to make sure your moss wall is clean and treated with fire-retardant. Greenleaf IPS also adheres to the San Diego Fire Department standards for natural decorative vegetation and only uses material certified by the California OFSM.