Did you know that our work environments impact how we feel, perform, and interact with others? With the goal of enhancing the office environment, many companies are tapping into people's inherent love of nature. Incorporating biophilic design into an office is known to improve not only performance, but also employee health and satisfaction. To help bring biophilic design into your work environment, we'll dive into several different ways you can integrate biophilic design elements into your office space.
Grow a Living Wall
Living walls, also known as green walls, are a simple and structurally non-intrusive way to add a captivating biophilic design to your office. They usually consist of a collection of plants that are alive and rooted in an engineered framework system. This structure is often securely installed into a vertical space and contains its own irrigation and drainage. The selection of plants can vary from succulents and cacti, to tropical flowers and ferns, depending on the surrounding elements. An entire wall can be transformed into a living wall to create an impressive and eye-catching welcome for customers and employees alike.
Create a Mini Oasis with Potted Plants
Abundant foliage is the core of biophilic design. Planters and dividers are one of the simplest, most elegant solutions for introducing greenery into your office space. However, we recommend avoiding isolated singular occurrences of pots. In order to obtain a full biophilic effect, you can either:
Have consecutive plants strategically placed around the office
Create a mini oasis with a group of planters in specific areas of the office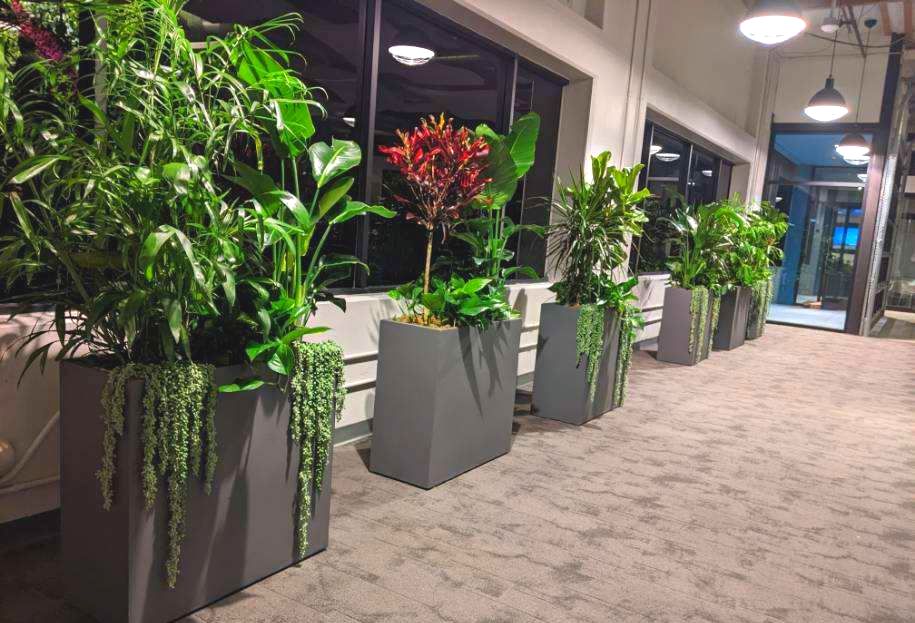 Welcome in Natural Light
Did you know that natural light positively impacts our well-being? It has the ability to reduce stress and create a more motivating environment. Additionally, your plants will love it! Remove clunky curtains and open the blinds. If possible, arrange the furniture to work with (rather than against) the light. There's no such thing as biophilic design without the use of natural light! It'll help keep both the employees and plants happy!
Display Preserved Moss Wall Art
Preserved moss wall art adds a vibrant pop of color and a warm feeling to any office space. The colors and textures of moss walls can create an inviting, serene, and natural feel that puts people at ease. In fact, studies have actually shown that moss wall art even increases productivity, creativity, and overall well-being. Preserved moss walls are a great option for offices that want to incorporate biophilic design elements without the need for constant maintenance.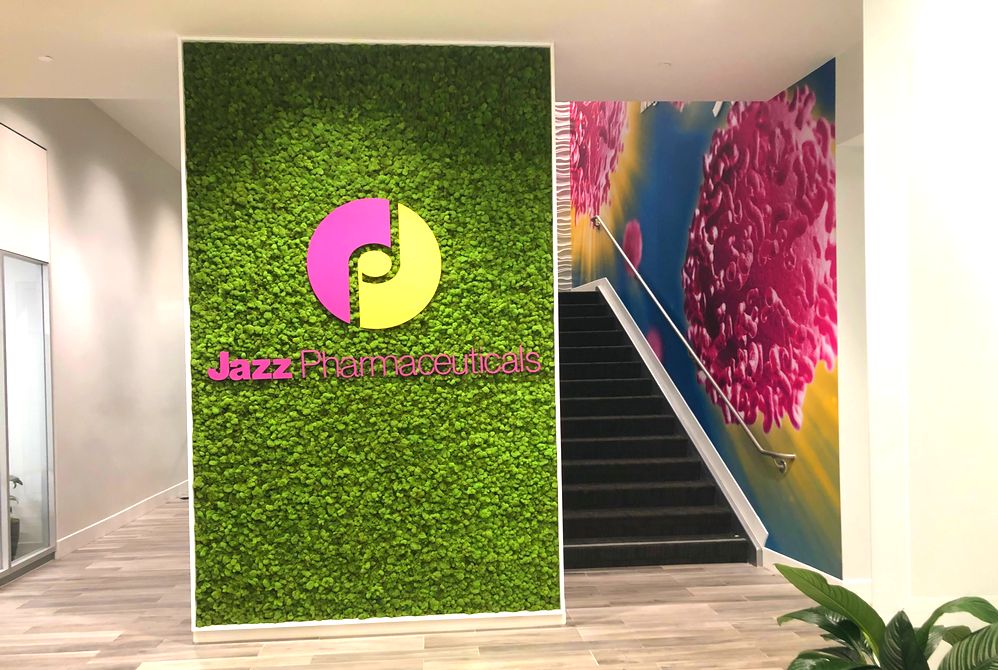 Go With Natural Materials
When it comes to office furnishing, opt for natural over synthetic. In order to achieve a well-balanced biophilic office design, integrating natural materials is a good idea. For example, you can go with sustainable wooden tables rather than plastic ones. No need to refurnish the entire office, just a few touches of natural materials here and there will help you achieve the perfect look.
Create a Biophilic Office with Greenleaf IPS
With biophilic design taking over office spaces, employees and customers will get to enjoy a deeper connection to nature. From luscious living walls to vibrant potted plants, integrating biophilic design elements into your office space is really not that difficult. If you're interested in incorporating these plant design ideas into your office space, give Greenleaf IPS a call at (858) 488-0611, or click here for a free quote! We look forward to helping you create the ultimate biophilic office space!