Living green walls are a beautiful investment that will thrive for many years to come—with proper care and maintenance, that is! Whether placed inside your office, featured in your living room, or placed in your outdoor lunch area, these living art pieces require some attention and care to keep them looking lush and charming as the day they were installed. In today's blog, we will go over a list of living wall care and maintenance tips that will ensure your living wall is healthy and thriving! 
What is a Living Wall?
First and foremost, what exactly is a living wall? Also known as plant walls and vertical gardens, living walls consist of a collection of plants that are alive and rooted into an engineered framework system. This structure is often securely installed into a vertical space and contains its own irrigation and drainage. The selection of plants can vary from succulents and cacti, to tropical flowers and ferns, depending on the surrounding elements.
Living Wall Maintenance
Like most plants, a living wall requires water, sunlight, and occasional pruning. Unlike your typical houseplant, however, they require more than a light sprinkling from your watering can. Don't know where to start? Below we'll go over what you need to do to maintain your live wall and keep it looking healthy and beautiful! 
Water & Irrigation
Of course, the number one thing living walls need is water—and an irrigation system is the best way to keep your plants hydrated and alive. It's also important that you not overwater your plants as it can be just as harmful as underwatering—or worse. There are several types of irrigation systems you can use for your living walls. Many different factors go into determining which one is best for your vertical living wall, such as the types of plants you have and your live wall's positioning. Your living wall contractor can help you determine which one is the optimal choice for your installation. 
Pruning & Plant Replacement
Every now and then, you may find that some of the plants on your living wall need to be pruned/replaced. You may also notice that one plant may start to grow on top of another, thus shading the plants below. If this happens, it might be time for a trim. If you spot any brown or wilted leaves, remove them. Pruning is a normal aspect of plant care, and doing it on a regular basis is essential for keeping your live wall looking vibrant and healthy!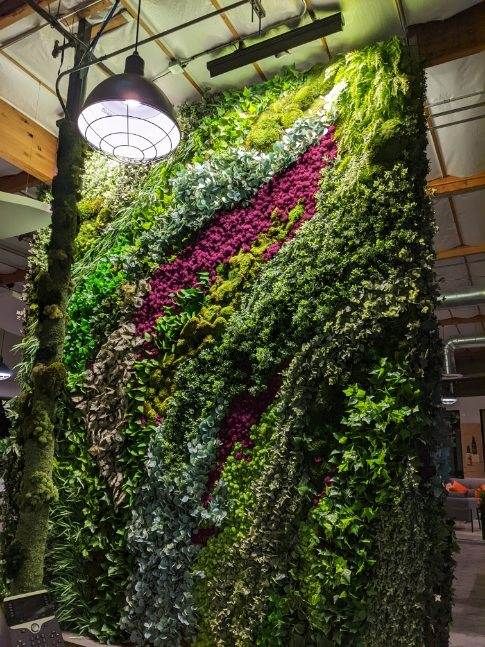 Soil Care & Fertilization
If you notice a lack of flowering or discoloration in your live wall's leaves, you may need to check the soil. Depending on the type of living wall you installed, you may have to fertilize your living wall manually, or simply let the automatic fertilizer feature of your living wall fertilize your plants for you. 
Pest and Disease Prevention
Pests can be a major nuisance when it comes to plant care. Fortunately, they can be prevented or controlled with the help of a plant expert. If you notice any disease symptoms or any unusual signs, we recommend checking the roots. A healthy plant's roots will be white and furious. If there is an issue, call your live wall provider so that they can identify the pest/disease and provide you with an immediate solution. 
Our Live Wall Care Program
Did you get overwhelmed by all the maintenance tasks you need to do to keep your living walls looking beautiful? Are you too busy to give your living wall the attention it needs? Fret not! Greenleaf IPS offers our clients a live wall care program! This program provides routine inspections of your live wall to ensure the long-term health of your plants. We'll take care of irrigation, pruning, soil care, fertilization, and pest/disease prevention. You can enjoy a beautiful living wall without having to make time in your busy schedule for it. Besides, leaving your plants in expert hands is always the best route to go! If you're planning on installing a living wall in your residential/commercial space, Greenleaf IPS is more than happy to assist! We can also take care of the maintenance and care of your live wall as well! Give us a call at (858) 488-0611, or click here for a FREE quote!