Moss wall art is a creative, unique, and beneficial design accent to add to your office space or even in your home. This type of wall art is also known as "green walls," which has been known to produce psychological benefits. Moss art adds a vibrant pop of color and warm feeling to any room that the wall is placed in. The colors and textures of moss walls can create an inviting, serene, and natural feel that puts you at ease. In certain studies, moss wall art has even increased productivity, creativity, and overall well-being. Our team at Greenleaf IPS can create and place your moss wall art anywhere you'd like. Our preserved moss is easy to install and requires little to no maintenance, unlike living moss walls.
 What Are Preserved Moss Walls?
Preserved moss is 100% natural moss that isn't alive, but has been carefully preserved for decorative purposes. Through an eco-friendly process, the moss has been preserved with non-toxic chemicals. These chemicals are used to keep the moss intact and ensure that it appears and smells fresh for a long time. We also heat-treat the moss after this process for fire-safety purposes.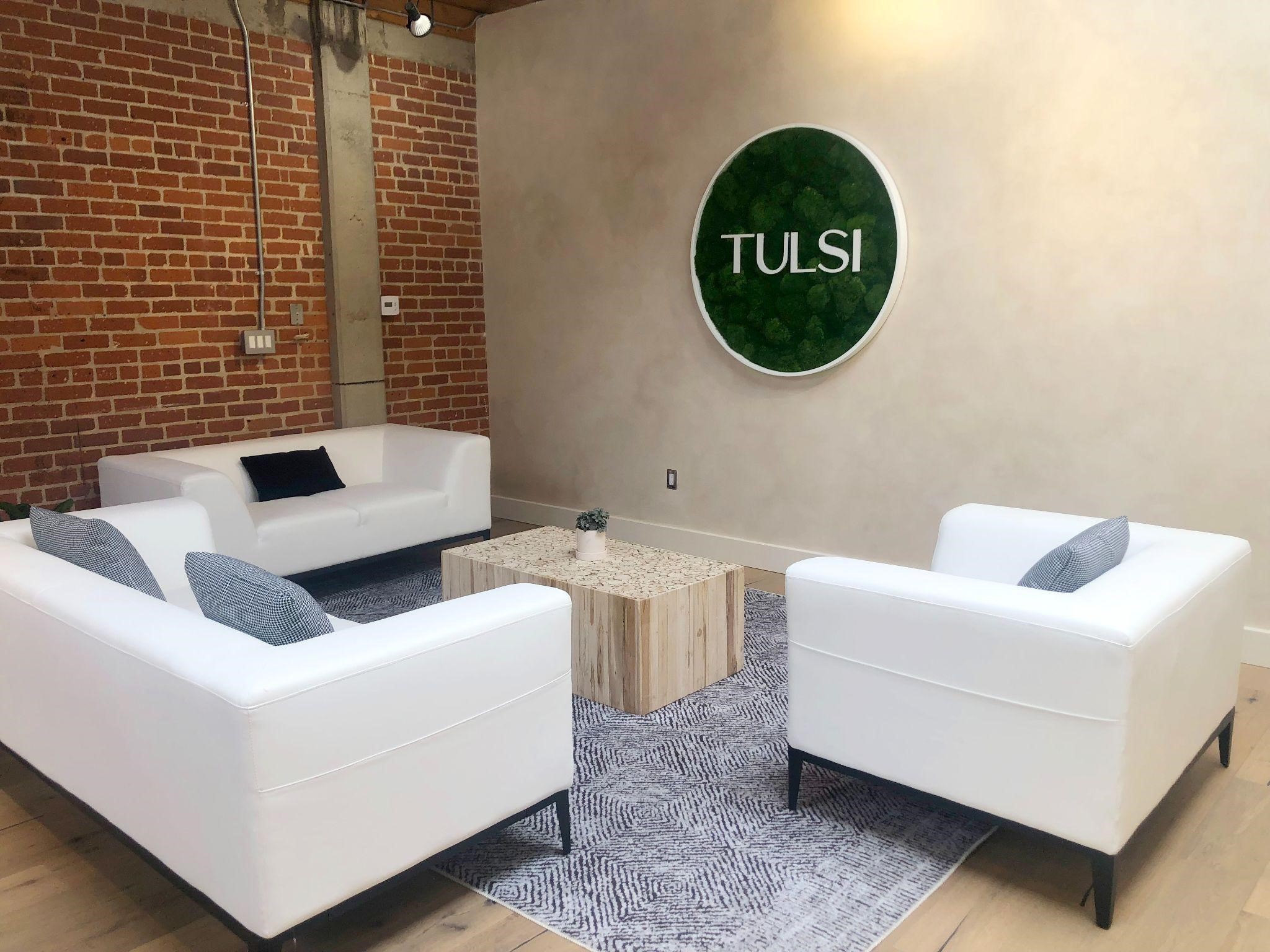 The Benefits of Moss Wall Art
In addition to mood-boosting properties, moss walls are also very aesthetically pleasing. They are a great conversation starter and can create a lively and fun look that makes any space immediately feel more balanced. If you happen to work inside, these preserved moss walls will bring the outdoor elements in, creating a warm and inviting area. Preserved moss walls are best for people who want natural decor without the constant maintenance. They have no need for water, sunlight or soil, and the non-toxic chemicals help to repel insects. They only require occasional touch ups and routine safety heat treatments, making them more economical than living moss walls. Along with low maintenance, they are sound absorbing, space saving and combat air pollution.
With preserved moss, the design possibilities are endless. Preserved moss is sold in almost any color, and it can be manipulated to fit custom shapes. Natural materials, like branches or other plants, can be added to make your piece multidimensional. You can even incorporate metal or wood fabrication, 3D custom logos, and even LED backlighting to enhance your artwork and provide a personalized branding experience.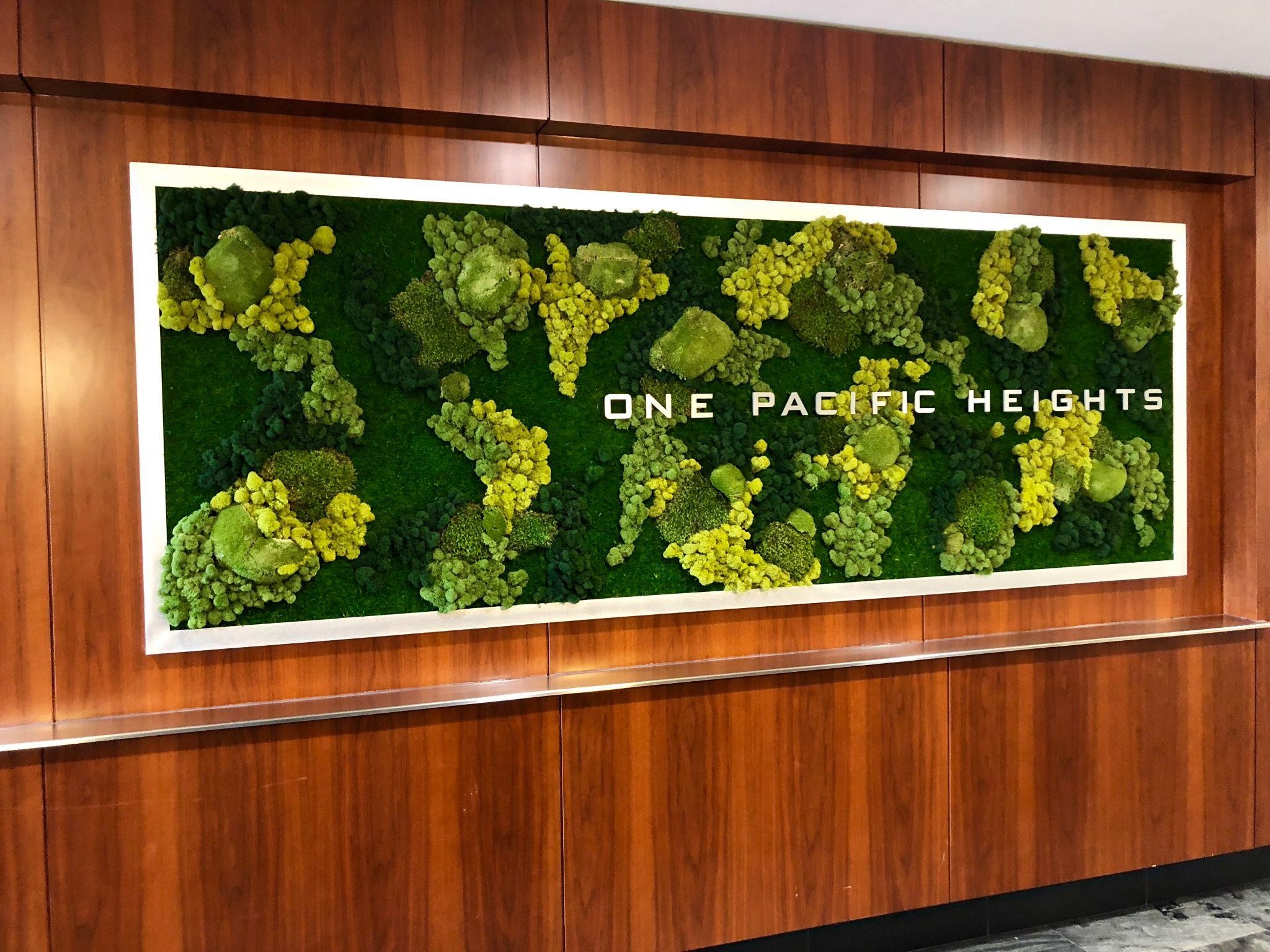 Handcrafted Designs from Greenleaf IPS
For over 15 years, our team has been handcrafting wall frames and creating eccentric moss designs for office spaces, private homes, and commercial businesses large or small. At Greenleaf IPS, our team can build custom preserved moss wall art for your unique space.  We specialize in modern style moss walls that create an inviting and colorful area for you, your coworkers, or employees. Our capabilities range from wood & metal fabrication to LED backlighting. We have multiple design and color options to choose from, and often work with our clients to create tailor-made designs. At Greenleaf IPS, we also provide fast maintenance and repair services so that your moss wall is always looking its best.
Create Your Own Unique Moss Wall
Our craftsmen at Greenleaf IPS will design, build, and install your moss artwork without you having to lift a finger. We can incorporate LED backlighting into any design with modern technology, and give you that balance of nature and contemporary art that you've been looking for! Our team is eager to assist our customers with any questions or design preferences to help create a moss structure that works the best for them in their space. Get a free quote or set up a consultation with one of our team members and begin customizing your moss artwork today! If you'd like to learn more about our moss wall art or want to start designing your own, call us at (858) 488-0611 or email us through our website at greenleafips.com!