With interior decor shifting towards the gorgeous, earthy beauty of plants, more and more people are incorporating moss into their interior design. The healing aspects of nature are not only making spaces more relaxing and beautiful, but they're also helping boost productivity, lift moods, and enhance the overall ambiance of interior spaces. The possibilities with moss wall art are endless! From giant moss frames to moss company logos, you can get unique with your design! In today's blog, we will be going over several moss wall art projects to inspire your next project!
Moss Wall Art to Inspire your Next Project
Whether you're into intricate designs or prefer something simple and modern, moss art gives you the option to create something unique and tailored to your preferences. Greenleaf IPS has been creating astonishing moss wall art for several years. From commercial to residential projects, we've worked on all kinds of different moss wall art designs. To help inspire your moss wall art project, we've put together a list of our most recent projects to give you some ideas and inspirations for yours:
San Diego BioTech Company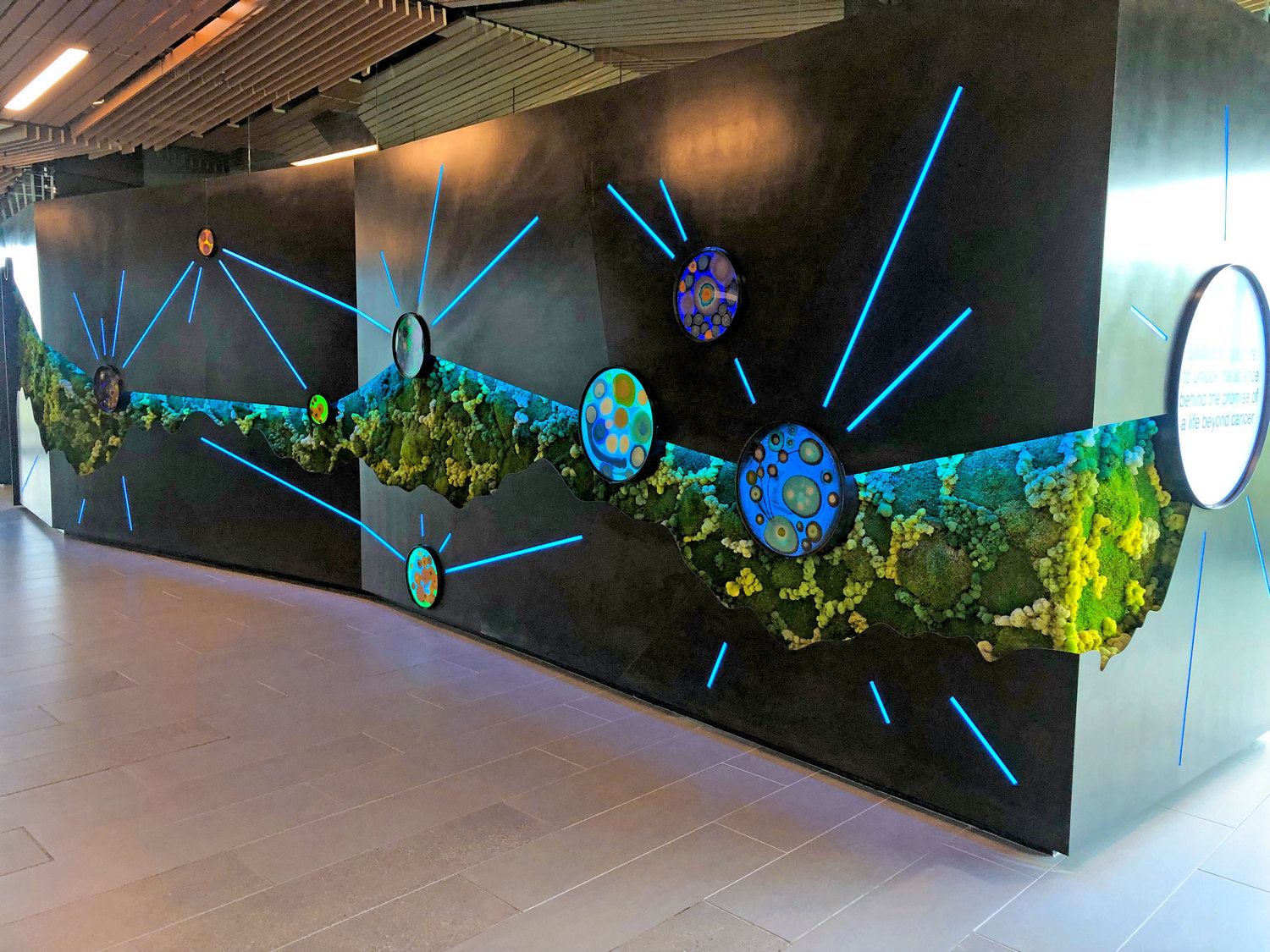 When it comes to moss walls, the design possibilities are endless! The moss wall we did for a biotech company illustrates just how creative you can get with your design! The final installation was a contemporary moss art piece, complete with abstract flowing cells and molecules. Moss pattern successfully gave the illusion of movement by careful placement of bright green moss, as it wrapped from panel to panel. As you can see in the image above, we've incorporated the use of several different moss colors—creating this eye-catching, multi-colored moss wall. If you're looking for a moss wall art design that grabs people's attention, we recommend using several different types of moss that contrast with each other. The balancing of different colored moss is a beautiful way to make your moss wall pop!
Coronado Residence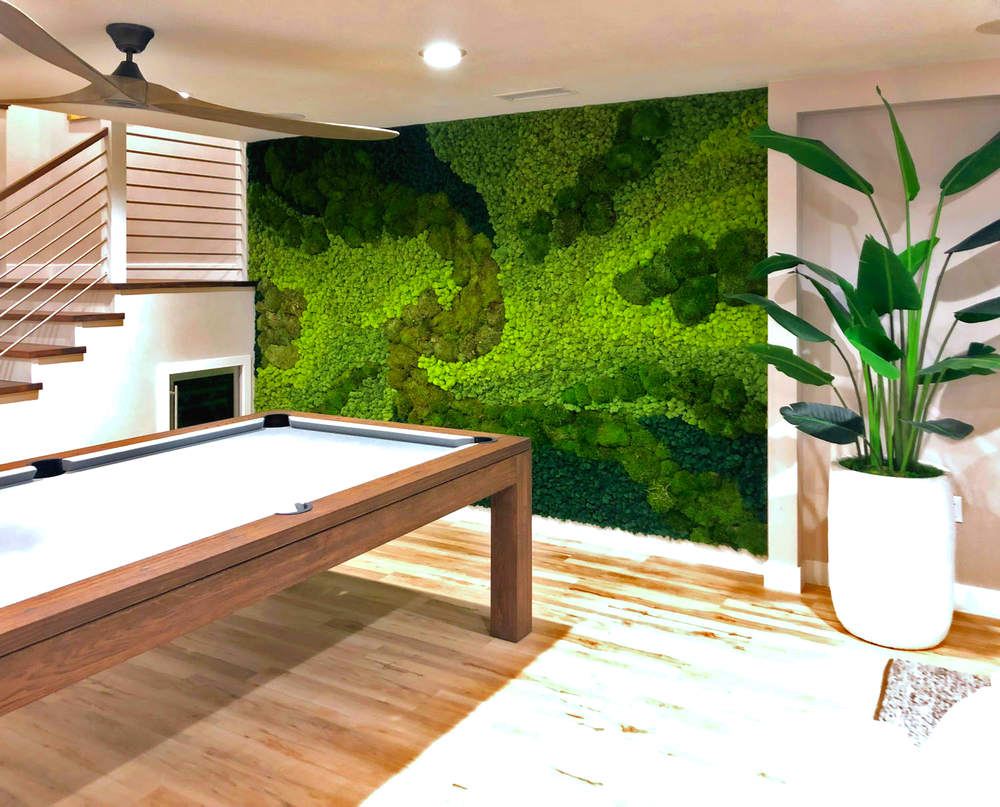 Moss wall art isn't only for commercial use—it can be used for residential spaces as well! As you can see in the photo above, this Coronado residence beautified the entrance of their home with a full-wall moss design. In one of our largest projects to date, a young family came to us in search of a dramatic moss panel for their modern home. Visible from the house's front entrance, this residence needed an eye-catching design to fill a large, empty wall in their great room. This is where we worked with them closely to create a design that was organic but dramatic as well. Our clients specifically requested a design with "wow-factor", and we did not want to disappoint. The result was a floor-to-ceiling moss wall that had flowing lines to create a sense of movement. If you're looking for a moss wall art design that harmoniously combines organic flow with drama, we can work closely with you to create the perfect design!
Roswell Biotechnologies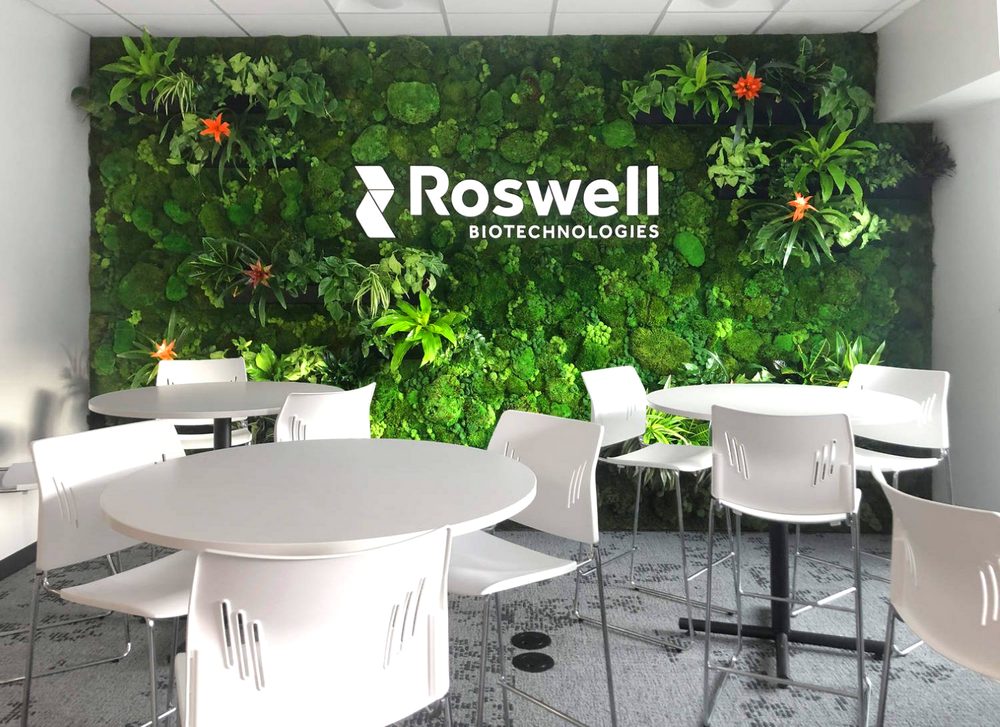 Did you know that moss walls don't have to just be composed of moss? You can combine the use of moss with different types of plants to create a breathtaking green wall that showcases many different types of plants! As you can see with this moss wall project we did for Roswell Biotechnologies; we created a full-width plant wall filled with preserved moss, live tropical plant shelves, and a large custom logo in the center. If you're looking for a noteworthy design that implements the use of different plant species, a moss and live plant wall may be the design you're looking for.
Burtech Pipeline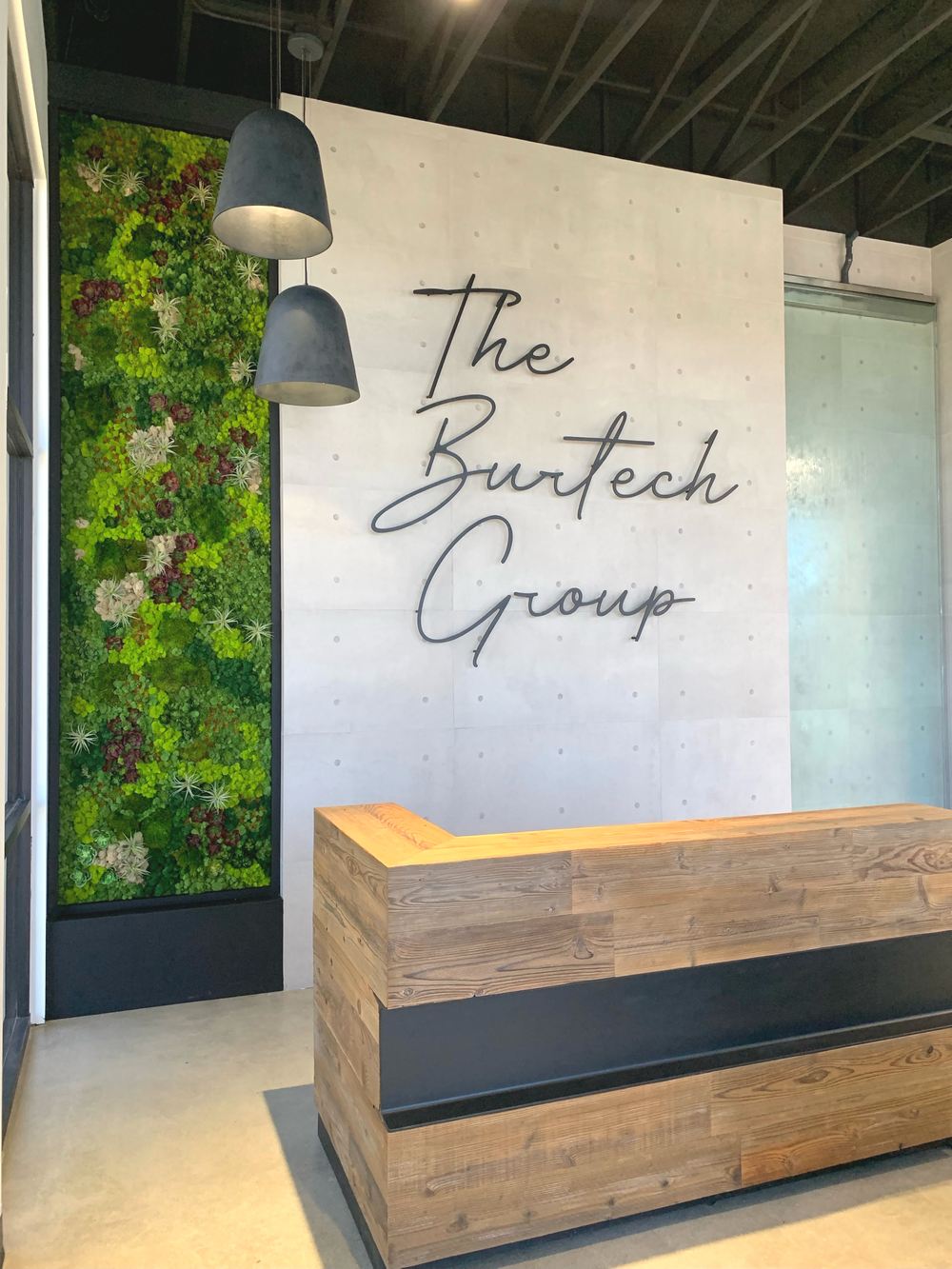 Burtech Pipeline is an underground pipeline company that was looking to enhance the look of their main office. To finalize the look of their modern office design, they decided to add a luscious touch of green with a moss wall. As you can see in the photo above, we used several different y types of moss to add depth and interest. Moss walls are a MUST when it comes to contemporary design. They're an excellent design element to combine with a company logo. 
Altissima Winery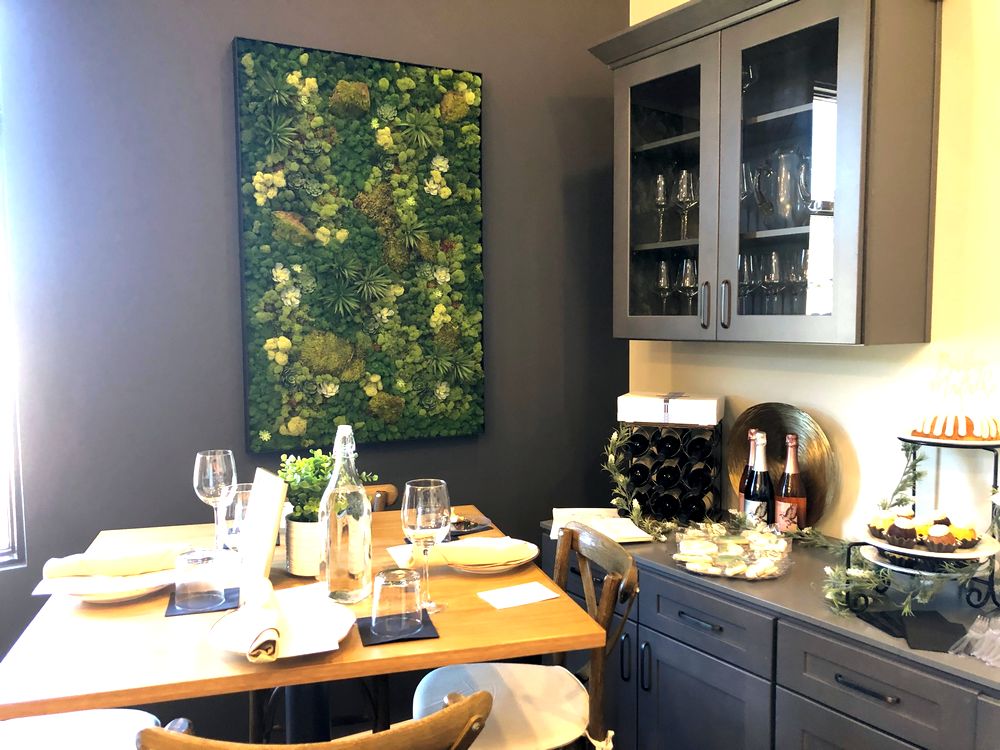 Altísima Winery is a beautiful winery located in Temecula Valley Wine Country. With stunning contemporary architecture, they needed some final touches to balance out their look: moss walls. Moss walls are one of the most versatile and compelling design elements currently in place. Whether you have a modern, elegant, or vintage design, moss walls can complement every style beautifully. We added several moss walls throughout the winery's premises. Framed moss walls are an excellent choice for those with little wall space. 
Moss Wall Art With Greenleaf IPS
When it comes to green design, the use of moss wall art is one of the most appealing ways to give your interior space some personality. We hope this list of moss wall art has helped inspire you for your next project. Whether you're looking for a design similar to these examples, or something completely new, our experienced team is here to make your dream moss wall a reality! Give us a call at (858) 488-0611, or click here for a FREE quote! We can quickly answer any questions you may have or schedule a time for a design consultation. We look forward to helping you create the ultimate moss wall design for your commercial or residential space!