Have you ever bought a plant and placed it near your sunny window only to see it quickly shrivel up and die? While bright and sunny rooms may seem like the perfect place for indoor plants, not all houseplants can tolerate direct sunlight. Most houseplants will either experience leaf scorch, wilting, or die when fully exposed to the sun, especially in the summer. Now that the warmer days are on their way, we came up with a list of the top indoor high-light plants, so you can decorate your sunny space with plants without having to worry about them in the sun. Keep on reading to learn which plants will work best for your high-light environment.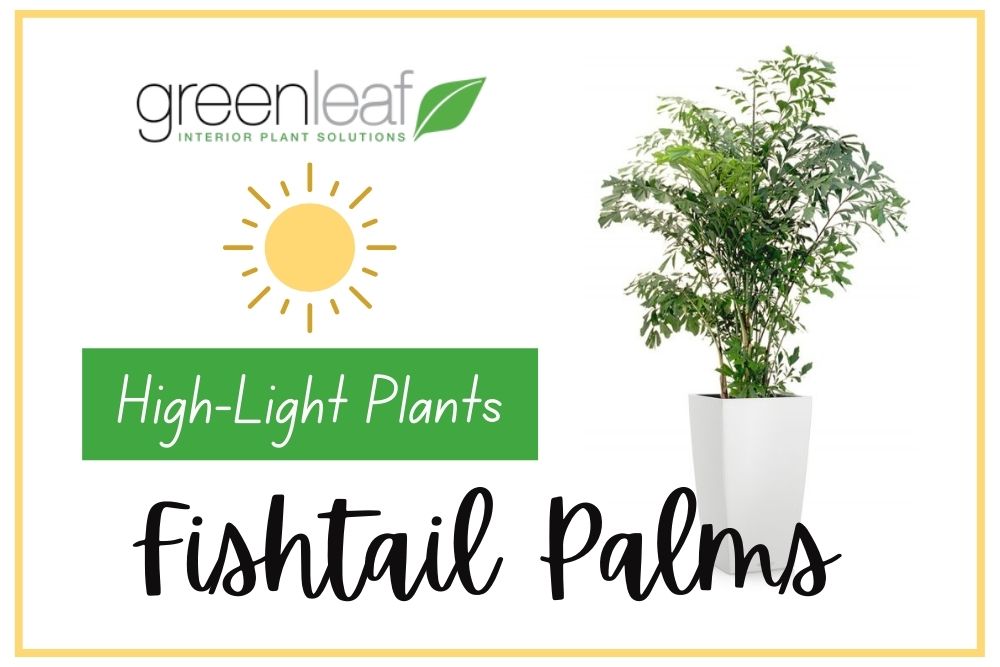 Fishtail Palms
The Fishtail Palm (Caryota) is one of the best plants for high-light environments. Named for its unusual leaves that are shaped like a jagged fish's tail, this plant thrives under abundant bright light and lots of water. They grow quickly and reach an average height of 12'-15', making them perfect to lush up your indoor space. If you have high ceilings, these plants are perfect! These plants are ideal for sunny living rooms, lobbies, and atriums with plenty of bright light!
Light Tolerance: High Light

Bird of Paradise
While the Bird of Paradise (Strelitzia Nicolai) can tolerate medium light conditions, the Bird of Paradise will not thrive long-term without adequate sunlight, so we always recommend placing them under bright light. They're a great option for that empty sunny room that needs a nice touch of green! Birds of Paradise enjoy moist—but not soggy—soil, and being allowed to dry out slightly between waterings. We recommend not letting the soil dry completely through the pot but avoid overwatering. They can stand anywhere from 3'- 8' tall indoors, but grow up to 20' tall in the wild! The Bird of Paradise ranks among the most favorite houseplants due to its fast-growing abilities and large, beautiful leaves.
Light Tolerance: Med-High Light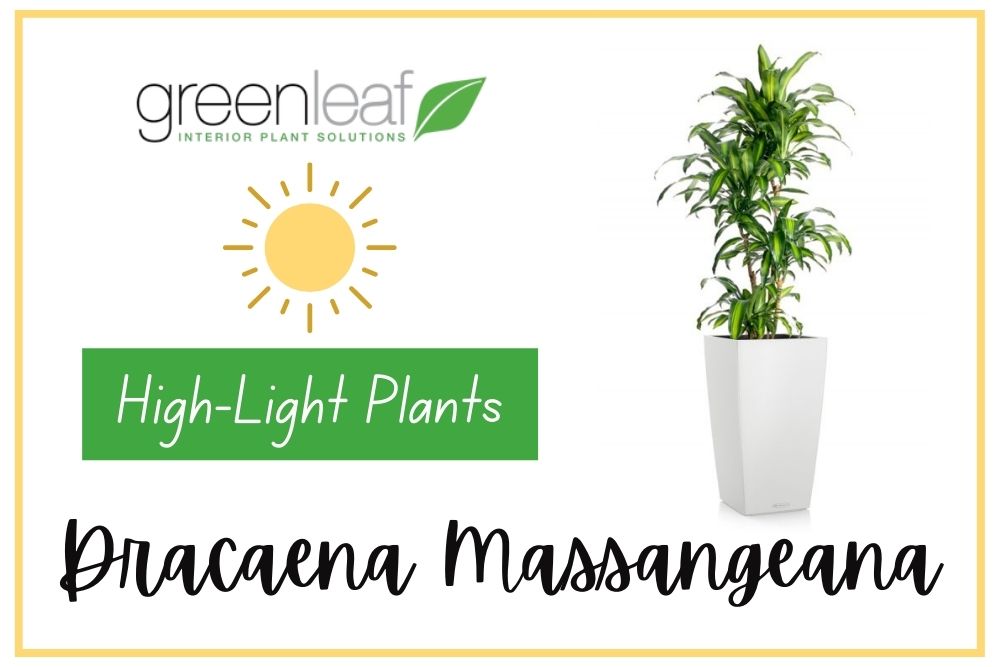 Dracaena Massangeana
The Dracaena Massangeana plant, also known as the "Corn plant", is made up of shiny green leaves that have a bright, yellow streak running down the center. It is an upright, evergreen shrub that does well in containers and is a relatively low-maintenance plant. However, this plant can experience leaf burn or bleaching when placed directly under sunlight. This plant does best for moderate to bright indirect light. It is ideal for offices, bedrooms, and living rooms with a med-high light level.
Light Tolerance: Med-High Indirect Light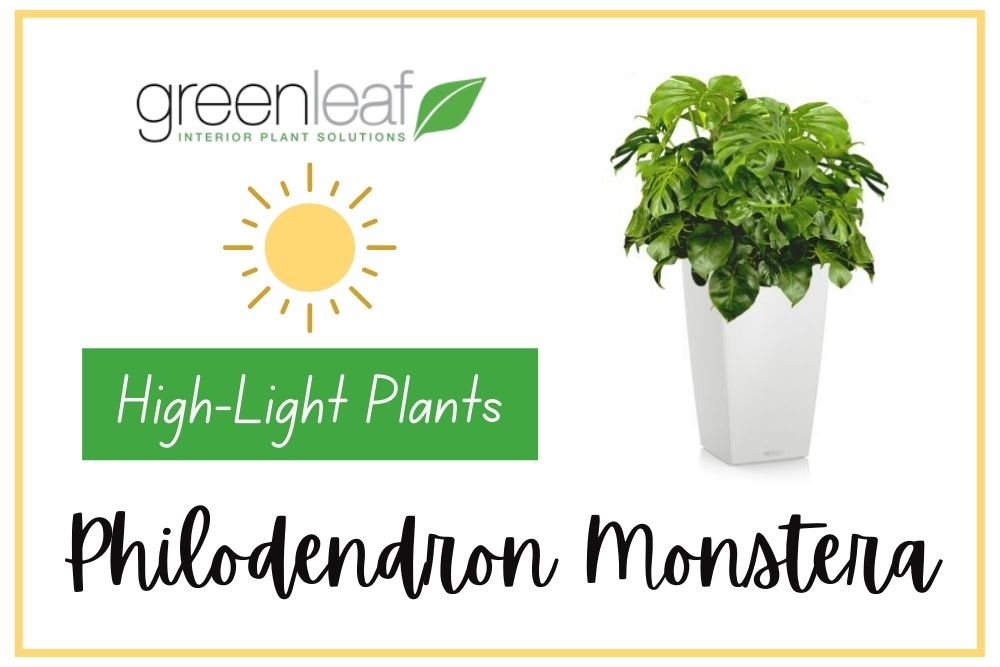 Philodendron Monstera
Philodendron Monstera, commonly called "Swiss-Cheese plant", is native to Central America. Since Monsteras are rainforest plants, they're not huge fans of direct sunlight. These plants thrive in bright indirect sources of light! This evergreen perennial vine is most noted for its huge, waxy, perforated leaves on thick plant stems and long cord-like aerial roots. Its dramatic appearance provides an instant "wow" factor to any room. Home interiors and offices with medium to bright indirect sources of light are perfect for this tropical plant.
Light Tolerance: Med-High Indirect Light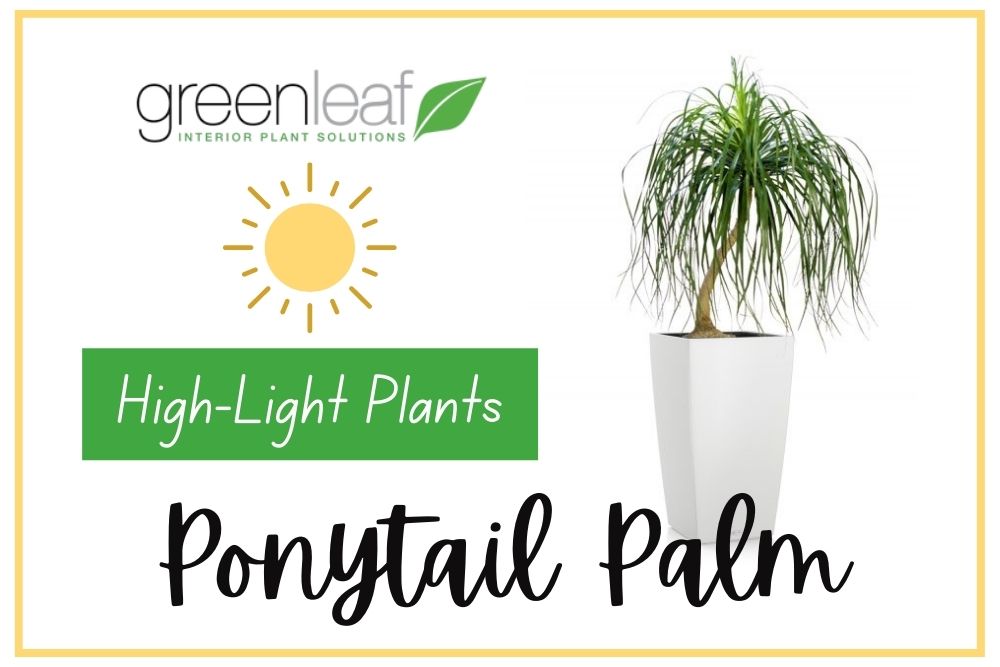 Ponytail Palm
Ponytail palms need bright light, so it's best if you plan to grow this plant in the sunniest room of the house or near the window—but not directly in the sun. They can tolerate dry conditions pretty well, which makes them perfect for the low humidity levels of most indoor conditions. It is drought-tolerant, slow-growing, and requires very little care. With its bulbous trunk and cascading ponytail of leaves, this plant is popular for its quirky looks.
Light Tolerance: Med-High Indirect Light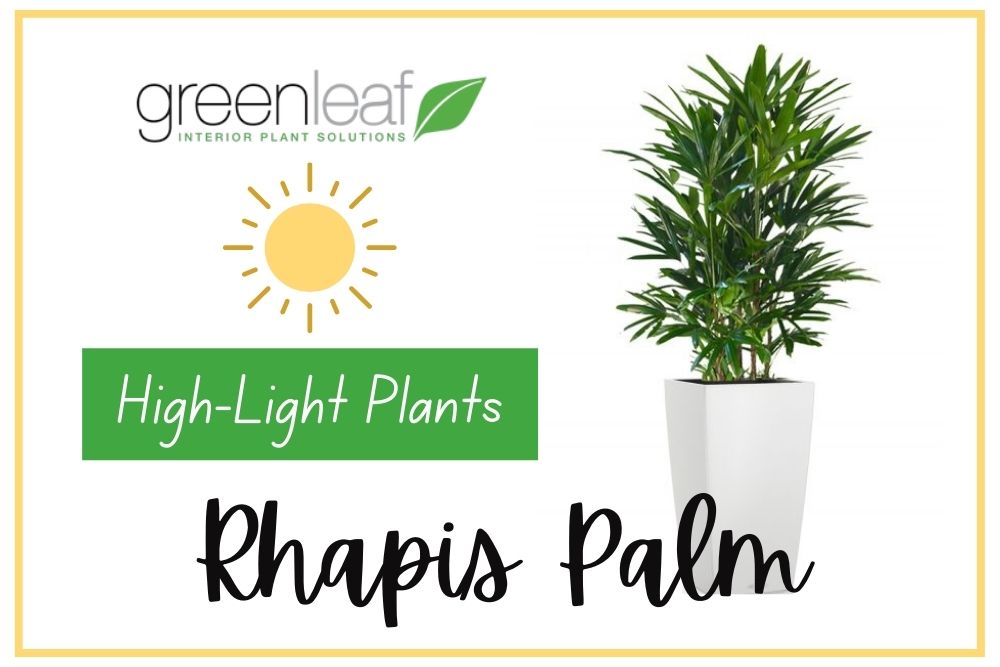 Rhapis Palm
The Rhapis Palm delivers beauty, elegance, and versatility to any interior setting. Sometimes called the "Lady Palm," this plant grows dense fan-shaped leaves from multiple woody stems and can take significant vertical space without spreading too wide. A spot that gets direct sunlight is not ideal for this palm as the unfiltered sun can cause leaf burn. This palm grows best in conditions with bright indirect light.
Light Tolerance: Med-High Indirect Light
Make the most of your sunny, bright room with the use of high-light plants! We hope this list of indoor high-light plants for your sunny room helps you see which plant will work best for your space. Plants add beauty and freshness to any indoor space, but they don't all thrive in the same conditions. That's why Greenleaf is an expert at understanding which plants will survive in your indoor environment.  We have access to the highest-quality nursery grade plants. To get high-light indoor plants for your commercial property, give us a call at (858)-488-0611 or click here to explore our entire plant catalog! Let's transform your indoor space with the help of plants together!