"Today's business and civic leaders are interested in learning how they can restructure their organizations and communities to become more resourceful and regenerative. As designers and strategists, we remain committed to providing clients with design solutions that create a better world to live, work, and play. "– Gensler (Interior design firm)
Gensler could not have put it in better words. As time passes by, all major companies and leaders are becoming more aware and interested in effective workspaces and are looking for solutions to make them better. It is no wonder why Gensler and Greenleaf IPS have worked on common projects.
We, as a company, are also committed to delivering solutions that will create a better environment to live, work, and play in all kinds of spaces, from airports, universities, lobbies, offices, restaurants, and even residences. Greenleaf IPS delivers projects efficiently and on time. True craftsmanship that goes above and beyond shows in one of our recent moss wall installations at CBRE in UTC mall.
CBRE is a worldwide chain of real state offices that have recently opened a state-of-the-art office in San Diego — located inside of the Westfields's UTC shopping center. The new office is part of a cutting-edge approach to workspace strategy. It is designed to promote flexibility, mobility, and productivity. CBRE calls it the "Workspace360" initiative. It is created to emphasize hospitality for employees and clients.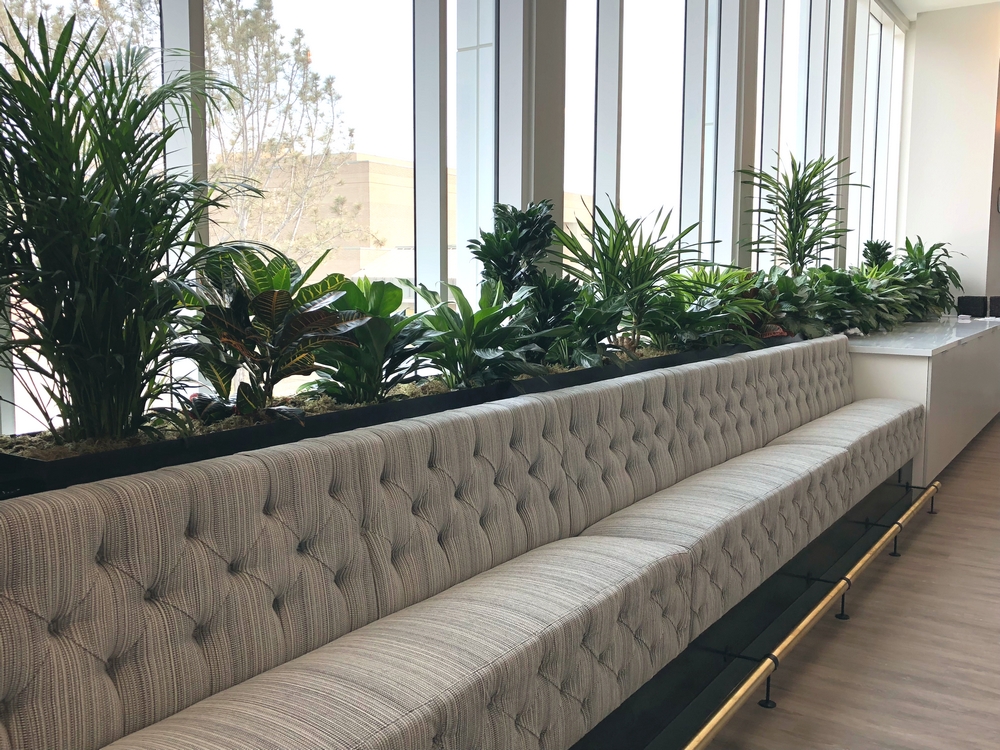 Greenleaf IPS is proud to be a part of the "Workspace360" Initiative by installing a moss wall that brings their vision of flexibility, mobility, and productivity to life. A moss wall is visually pleasing and easy to maintain, and most importantly, it brings a happier work environment that inspires productivity.
Besides the moss wall Greenleaf IPS has brought in a lot of indoor plants. Indoor plants in a business setting play a vital role in a healthier workspace. Plants are known to promote more robust air quality. Both clients and employees benefit from them. Starting your day at work with a beautiful display of mother nature's handpick plants has got to give you a great kickstart. Not to mention all other benefits that occur when you are not even thinking about it. Indoor plants bring sharper focus, lower energy cost, healthier skin, stabilized moisture levels, noise reduction, and so much more.
All green moss logos or any other stabilized moss wall coverings do not require water, light, or any other maintenance. For this reason, green moss and plant logos not only look good and create a brand character, but it is also a good investment.
Are you one of those leaders that want to make a difference in the working environment? Greenleaf IPS has the solution.
Give us a call at 858.488.0611 or send an email at info@greenleafips.com.