Green walls, also known as living walls or vertical gardens, are one of the latest trends in both interior and exterior design—and for a good reason! They're beautiful, promote good health, and offer a long list of amazing benefits! If you've been wondering why there's so much hype around these plant walls, this blog will go over why! We've compiled a list of all of the benefits green walls provide and why they're a great addition to any commercial or residential space!
1. Green Walls Purify the Air
You've probably heard of how the Amazon Jungle is referred to as the "lungs of the earth." This is because the extensive foliage of the Amazon Jungle converts vast amounts of carbon dioxide into oxygen! While we all benefit from the chemical process plants undergo to create oxygen, there's more we can do to ensure that our air is clean and oxygen-rich in our residential or commercial spaces. This is where green walls enter!
One of the greatest benefits green walls provide is the ability to improve indoor air quality. Around 25% of carbon emissions made by human activity are absorbed by plants. Green walls help filter toxins in the air and convert carbon dioxide into oxygen. In doing so, they create a healthier environment for everyone in the space.
Have you ever noticed how enclosed rooms easily get stuffy? The more people (and pets) there are in a space, the less breathable the air is. During hotter days, you can open your windows, but that means shutting off your HVAC or running it more and getting higher energy bills. Interior green walls can help offset the oxygen use of people within a space! As an added benefit, improved air quality also means:
Less eye irritation
Fewer headaches
Fewer illness incidents
If the green wall is located in a workspace, it'll make employees more productive and help decrease the number of sick days taken off.
2. Green Walls Decrease Ambient Temperature
Heating and cooling always make up a big chunk of your expenses. Whether it be chilly winters or sweltering summers, you will never be amused by your energy bills. Fortunately, there are ways to help reduce these bills. While you can undertake expensive jobs such as adding more insulation or replacing your HVAC unit with a high efficiency one, there's another way to lower your energy bill: living green walls! Plants absorb and reflect sunlight, which significantly helps cool down the air. As a result, you will use your HVAC less and spend less money on your heating and cooling bill.
This is also true for outdoor living walls! The heat given off by vehicles, machinery, and buildings can get trapped in certain areas and cause the temperatures to rise. Outdoor plants can help decrease high outdoor temperatures and create a more comfortable outdoor ambiance.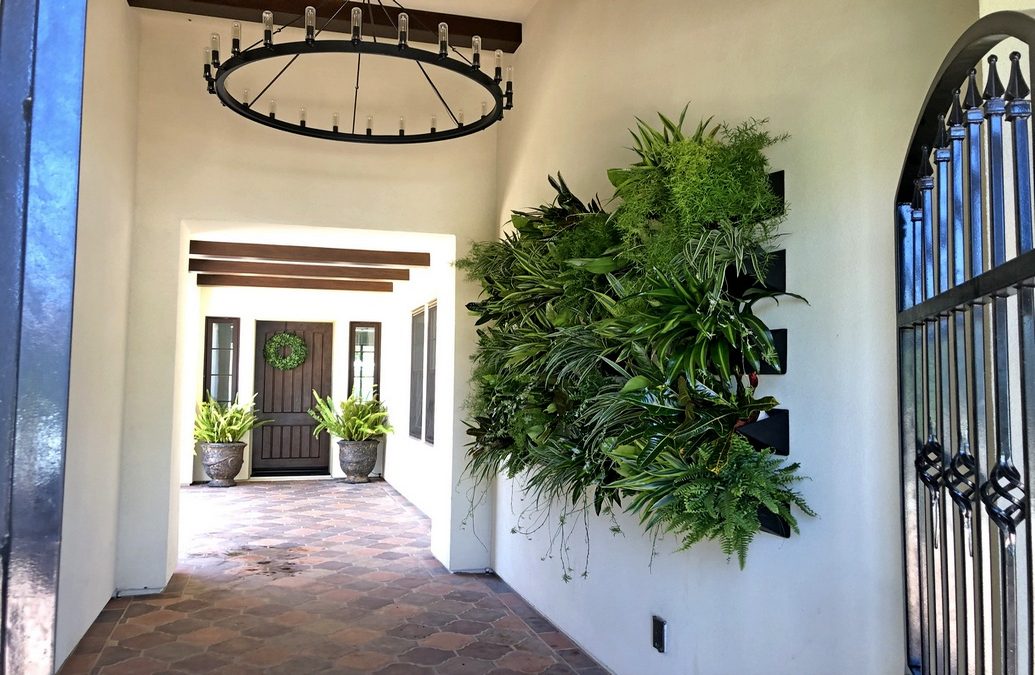 3. Green Walls Decrease Noise
Have you ever noticed how rooms with carpets are usually quieter than rooms with hardwood floors or tiles? That's because sound bounced off of flat, non-porous surfaces more easily. Things such as rugs and curtains can help make a noisy room quieter. Green walls have this effect as well. Sound vibrations are absorbed by the plant's leaves rather than reflecting the sound back into the room. Plant walls will absorb 41% more noise than a regular wall. Indoor green walls will help reduce the echo effect in rooms, while outdoor green walls will help reduce the noise from outdoor activities such as traffic, aircraft, and construction.
4. Green Walls Increase Productivity at the Workplace
There are various tactics that employers can take to improve worker morale. One of those is enhancing the ambiance of the workplace with new decor. Workers tend to appreciate notable changes to the quality of their work environment. After all, they're spending the majority of their day working in the same location. So if your goal is to improve employee morale and productivity, a living green wall is an intelligent tactic!
5. Green Walls Increase the Value of Your Building
Everyone wants to make their building more valuable. There are many ways to achieve this goal, but it usually involves a high investment. It's common to see people invest thousands of dollars only to get a minimal return. Luckily, when you install a living green wall, you're making the building more valuable with a small investment. Showcasing a natural look is often coveted by many buyers. Green walls are an investment that immediately starts paying for themselves.
6. Green Walls Create a Community Feel
Green wall draws people in and lightens the mood! They bring together communities and neighborhoods, helping create a sense of unity. They also help decrease aggression and vandalism. If you're looking to help create a sense of community in your building, you'll surely want to consider getting a green wall!
Be Part of the Green Revolution!
Indoor and outdoor living green walls offer us a vast number of great benefits! They purify the air, decrease ambient temperatures, decrease noise levels, enhance productivity, increase the value of properties, and help bring communities together. We hope this blog helps you see few of the many great benefits that green walls have to offer. If you're interested in getting a green wall for your commercial or residential space, give Greenleaf IPS a call at (858)-488-0611, or click here for a free quote!